Care bed for the home – What to consider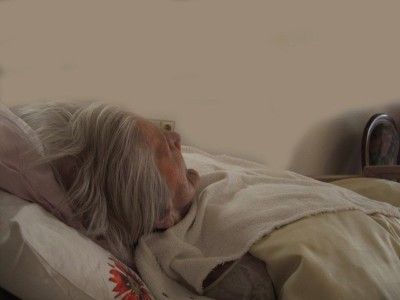 Nursing bed for home – What is there to consider?
When a relative in the family requires care, both the person affected and the family members want to provide care at home in many or even most cases.
In most cases, this is also possible and beneficial to the health of those affected. The familiar environment is important for dementia patients, for example, in order to slow down the progress of the disease.
In order for care to succeed in one's own four walls, some changes must be made to the apartment or house. Depending on the impairment, the house must be redesigned to be barrier-free – for example, a ground-level entrance or a ramp must be created and the bedroom must be moved to the first floor.
In this way, it can be ensured that people who are dependent on a rollator or wheelchair can still move around their home in a largely self-determined manner.
In addition, the two most important items that make life easier for the patient and the caregivers are a shower seat and a care bed.
A comparison of different care bed models can be found at pflegebetten-24.en. Here you can find out why a nursing bed is so important and what you need to look out for.
A nursing bed at home?
Those who want to care for their loved ones at home usually want to keep them in their familiar surroundings as much as possible. Putting a nursing bed in the bedroom is a deterrent – after all, such a nursing bed screams hospital or nursing home.
But the purchase of a care bed is very important. Not only does the care bed help the person concerned to live a more self-determined life, but it also protects their already impaired health.
Care is also much easier – the greater height alone makes it easier to lift the patient and relieves strain on the back.
What a nursing home bed can do for those in need of care
Care recipients benefit massively from the technology that a care bed offers. What at first glance may only seem like pleasant technology is actually a significant relief for physically impaired people.
The adjustment of the bed at the touch of a head makes it possible, for example, to comfortably watch television without having to rely on the help of someone else to adjust the pillows.
If you are physically limited, it is much more difficult for you to get up. The technology of the nursing bed is a great help here, because it allows the patient to sit up independently and thus to stand up.
The height of the nursing bed mattress helps people to get in and out of bed by themselves.
So if you invest in a care bed, you should definitely invest in one with an electric motor. Because these allow a more self-determined life and thus significantly increase the quality of life of those affected.
A nursing bed can be equipped with other accessories as needed. Of course, this depends on the individual needs of the person concerned.
An aid that is almost universally applicable would be, for example, the triangle, which almost everyone knows from the hospital and helps when getting up.
Many care beds can also be equipped with side rails. These are not necessary for many patients in need of care, unless they are severely confined individuals or even bedridden patients.
What to consider for bedridden patients?
Particularly high demands are placed on the nursing bed by people who are confined to bed. Here there is a risk of bedsores or other discomfort caused by lying for long periods. That is why an anti-decubitus mattress is strongly recommended in such a case.
A pressure sore is localized damage to the skin and underlying tissues that can result from prolonged exposure to high pressure, such as lying down for too long. It is an open wound, which is of course correspondingly susceptible to pathogens.
To prevent this condition from occurring, patients must be moved regularly so that no area of skin is exposed to great pressure for too long. An anti-decubitus mattress is made up of individual cubes, which prevent bedsores from forming and thus reduce the risk of injury. can delay.
All patients who have to lie down for a long time but are not bedridden benefit from a positioning mattress, which can yield differently depending on the amount of heat generated and makes lying more comfortable.
Who bears the costs of a care bed?
Whether the health insurance company covers the costs of the nursing bed does not necessarily depend on the nursing degree of the person in need of care. Even without a nursing degree, the bed may be covered by health insurance upon request.
In most cases, a co-payment of 10% is required for the bed, unless the person is a minor or has a very low income.
Of course, the health insurance only pays for simple models. If you want a higher-priced model, you have to pay the difference yourself.
How caregivers benefit from a care bed?
Caring for people is extremely hard work. The more dependent the patient is on care, the more caregivers need to look after them and help them move around.
Lifting and placing the person on the bed is particularly strenuous. Here also the largest injury risks arise by the large loads for the back.
Especially people who have not been trained in nursing or geriatric care need to protect themselves from injury.
A care bed is built so that the mattress is higher. This means that caregivers do not have to bend down as far to help the person in bed.
Anyone who cares for relatives should undergo further training in this area, also to protect their own health. Appropriate care courses are offered, for example, by adult education centers or aid organizations such as the ASB, Johanniter or Diakonie.