Bonus booklet and dental prosthesis – Keeping a complete record of preventive checkups and bonus booklet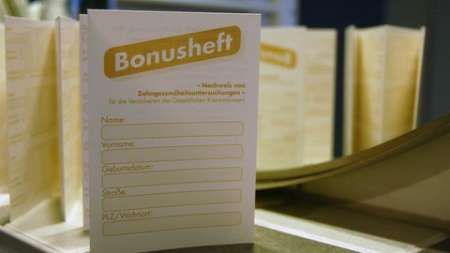 Bonus booklet and dentures
If you regularly visit your dentist once a year for a check-up and have this noted in your bonus booklet? "Almost 40 percent of patients give away cash money because they do not keep their bonus booklet complete," notes Dirk Kropp, managing director of the proDente initiative. If you are still missing a stamp for this year, you should quickly make an appointment with your dentist.
Every legally insured patient receives a higher allowance for dental prostheses from his health insurance company. Prerequisite: The dentist's office employees record regular annual visits to the dentist in the bonus booklet.
©proDente e.V.
Regular preventive care increases subsidy
If regular annual visits over five years are noted in the bonus booklet, the fixed allowance increases by 20 percent. If the patient has visited a dentist's office steadily once a year for more than ten years, the fixed allowance increases by 30 percent.
An example: A subsidy of 600.00 € then becomes 720.00 € or even 780.00 €. Reason enough to make a dental appointment by the end of the year. "Patients must keep in mind that they themselves are responsible for the entries in the bonus booklet," emphasizes Kropp. Reason enough to make a dentist appointment by the end of the year.
Bonus booklet lost?
The bonus booklet can be issued subsequently at any time. Every dentist keeps findings and treatments for ten years. Even if the bonus booklet is lost once, your dentist fills out a new booklet with the corresponding evidence on the basis of his records.
Initiative proDente e.V. – Facts
Five associations representing the entire dental service spectrum in Germany are involved in the proDente initiative e.V.:
– The German Dental Association (BZÄK),
– The Free Association of German Dentists (FVDZ),
– The Association of German Dental Technicians Guilds (VDZI),
– The Association of the German Dental Industry (VDDI),
and the Federal Association of Dental Trade (BVD).
Why this initiative?
proDente has set itself the goal of providing well-founded specialist knowledge in the fields of dentistry and dental technology. In support of dentists and dental technicians, the initiative wants to offer dedicated education for patients.
proDente wants to show the value of healthy and beautiful teeth. The main focus is on educational work from prophylaxis to prosthetics. For dentists and dental technicians, proDente presents a comprehensive range of services to facilitate communication with patients.
Activities
proDente produces scientifically based information material in a comprehensible form. This includes the information brochure "Teeth good – everything good" as well as numerous other magazines, flyers and leaflets on special areas of dentistry. The range of topics is regularly expanded. On the Internet, proDente is present with an information portal (www.prodente.en).
Office
Dirk Kropp, Managing Director Public Relations, is the contact person for all questions concerning the public relations of proDente. The office is located in Cologne.